Moody cow sweatshirt tshirt hoodie embroidered cattle funny shirts Moooody Cow Crewneck Sweater Gift for Cow Lovers Cottage Farm Animal Embroidery Gallery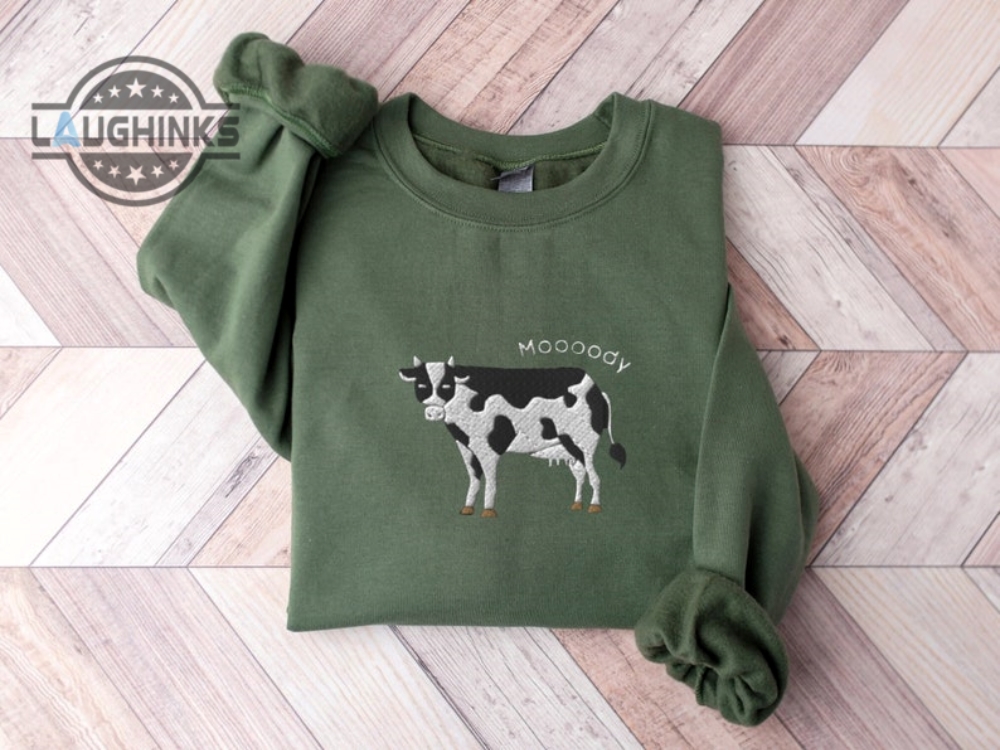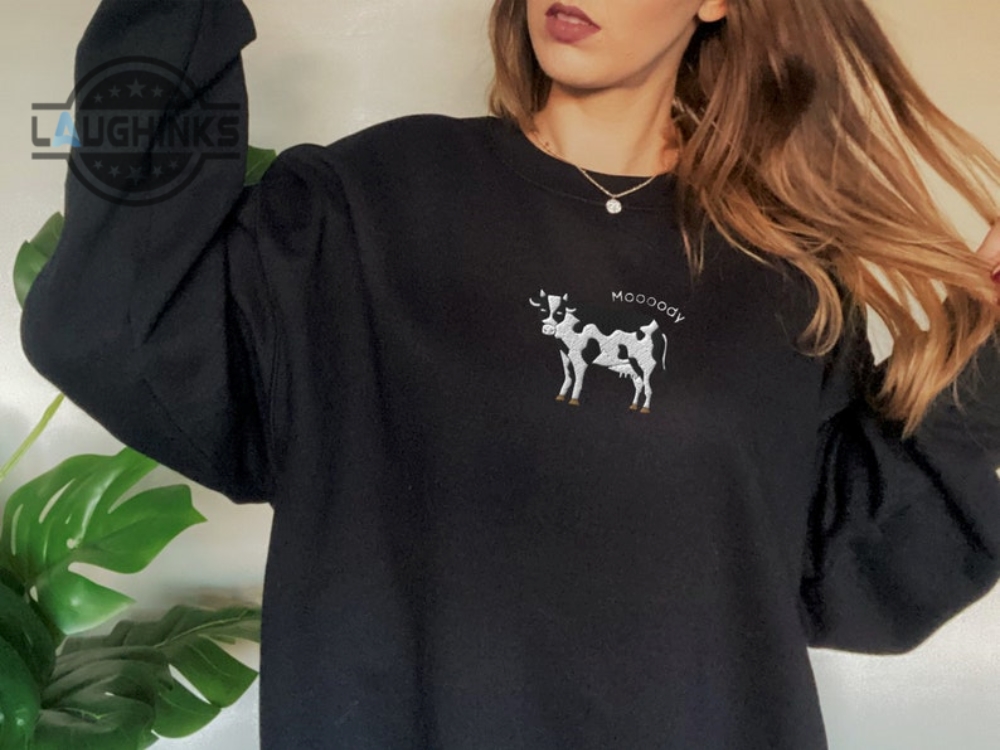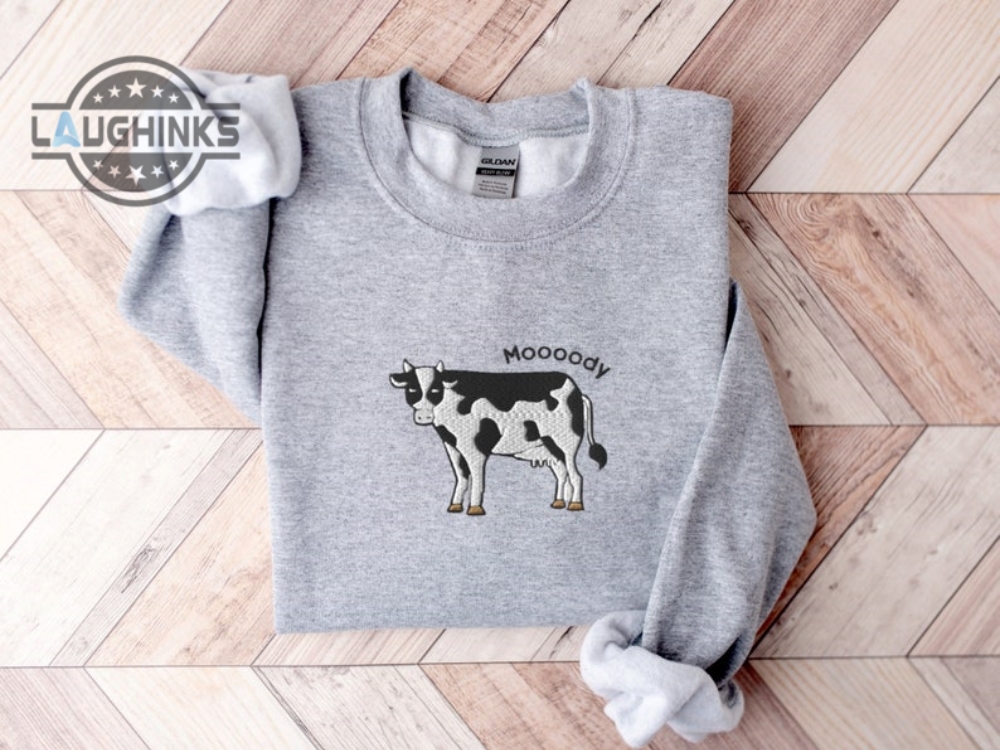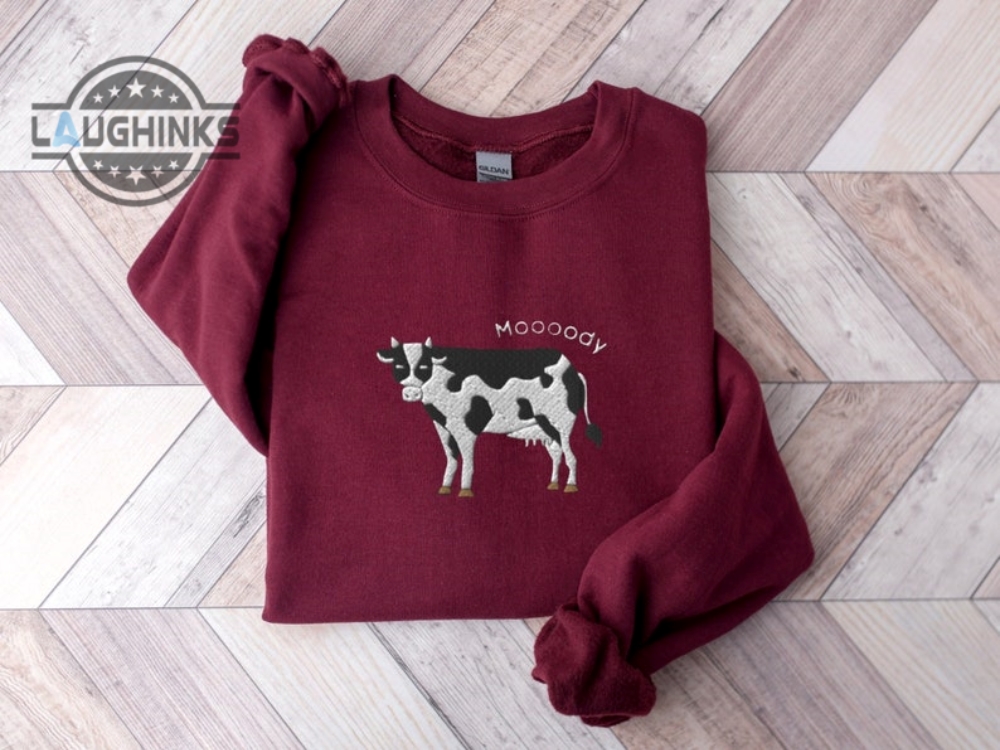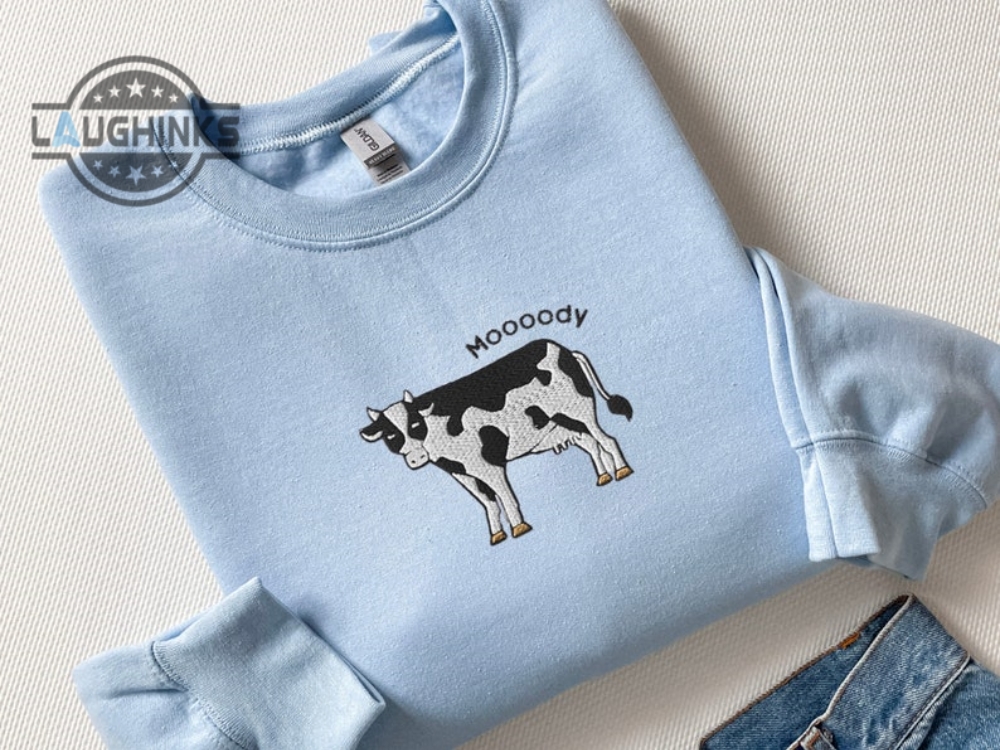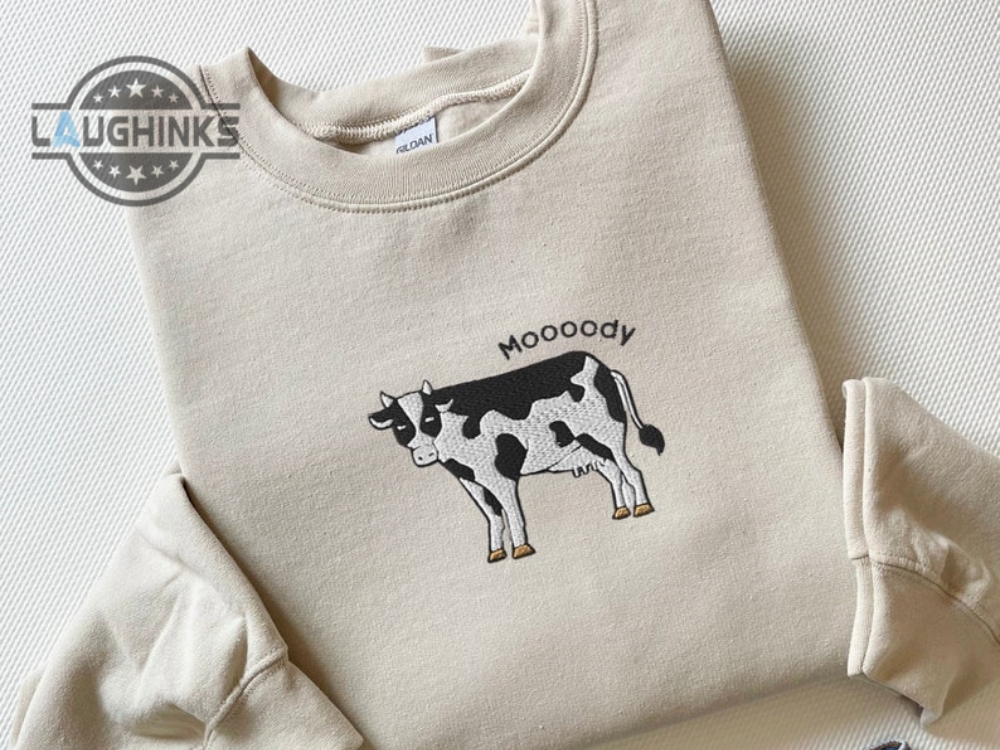 Moody cow sweatshirt tshirt hoodie embroidered cattle funny shirts Moooody Cow Crewneck Sweater Gift for Cow Lovers Cottage Farm Animal Embroidery Introduction
Looking for a unique and hilarious gift for the cow lover in your life? Look no further than our Moody Cow collection! Our Moody Cow sweatshirt, t-shirt, and hoodie are perfect for those who appreciate a good laugh and have a soft spot for these adorable farm animals. With their embroidered cattle design and funny slogan, these Moooody Cow garments are sure to bring a smile to anyone's face.
Whether you're looking for a cozy crewneck sweater or a casual t-shirt, our Moody Cow collection has got you covered. Made with high-quality materials, these garments are not only comfortable but also durable, ensuring that they will last for years to come. The intricate embroidery of the cottage farm animal adds a touch of charm and uniqueness to each piece, making them stand out from the crowd.
At Laughinks, we understand the importance of finding the perfect gift that reflects the recipient's personality and interests. That's why our Moody Cow collection is designed with American young adults in mind. We know that they appreciate humor and enjoy expressing their individuality through their clothing choices. So, if you're looking for a gift that will make them laugh and show off their love for cows, our Moody Cow sweatshirt, t-shirt, or hoodie is the perfect choice.
Don't miss out on the opportunity to surprise your loved ones with a gift that will bring joy and laughter. Shop now at Laughinks and explore our Moody Cow collection. Whether it's for a birthday, holiday, or just because, our Moody Cow garments are guaranteed to be a hit. So, why wait? Get your hands on our Moody Cow sweatshirt, t-shirt, or hoodie with embroidered cattle and funny slogan today and make someone's day a little bit brighter.
Moody cow sweatshirt tshirt hoodie embroidered cattle funny shirts Moooody Cow Crewneck Sweater Gift for Cow Lovers Cottage Farm Animal Embroidery Description
Why choose our shirts?
Explore Our Versatile Selection: Discover a wide range of options, including classic t-shirts, pullover hoodies, crewneck sweatshirts, and long sleeve t-shirts, all designed for men (unisex), women, and youth.
Premium Materials for Exceptional Comfort: Our shirts are carefully crafted from top-quality materials, ensuring unmatched comfort, flexibility, and breathability. We prioritize the use of premium fabrics like cotton and polyester to guarantee long-lasting durability and a delightful wearing experience.
Expressive Graphics and Fine Embroidery: Our shirts are available in three unique styles. Choose from classic printed graphic tees featuring eye-catching designs that showcase your favorite characters, symbols, or artwork. Additionally, our all-over printed shirts display vibrant patterns and visuals that cover the entire garment, making a bold and distinctive fashion statement. For an added touch of sophistication, explore our embroidered shirts, featuring meticulously crafted designs for a timeless and elegant look.
Stay Ahead with Trendy and Distinctive Designs: Elevate your style with our diverse collection of shirts. Keep up with the latest fashion trends by selecting from a wide array of stylish and unique designs, allowing you to express your individuality and leave a lasting impression.
Affordable Quality: At our core, we are committed to providing outstanding value for your money. Our shirts are competitively priced, ensuring a perfect balance of quality and affordability, allowing you to enjoy stylish apparel without breaking the bank.
Seamless Shopping Experience: Enjoy hassle-free shirt shopping on our user-friendly website. With a smooth browsing experience, you can effortlessly explore our collection, choose your preferred styles and sizes, and complete your purchase with just a few simple clicks, ensuring a smooth and enjoyable shopping journey.
Personalize Your Style: Unleash your creativity and design a truly unique shirt with our customization features. Personalize your design by adding your name, uploading images, or making adjustments to create a one-of-a-kind masterpiece that reflects your individuality and style.
Dedicated Customer Support: Our commitment to exceptional customer care sets us apart. Our dedicated team is always ready to promptly address any inquiries or concerns, ensuring that your experience with us is consistently satisfying and enjoyable.
Important Notices:
Sizes may vary slightly due to fabric stretches. Please consult the size chart before making a purchase.
Colors in photos may vary due to lighting effects during photography or different monitor settings.
Moody cow sweatshirt tshirt hoodie embroidered cattle funny shirts Moooody Cow Crewneck Sweater Gift for Cow Lovers Cottage Farm Animal Embroidery Social Links:
Link Pinterest: Moody cow sweatshirt tshirt hoodie embroidered cattle funny shirts Moooody Cow Crewneck Sweater Gift for Cow Lovers Cottage Farm Animal Embroidery
Link Twitter: Moody cow sweatshirt tshirt hoodie embroidered cattle funny shirts Moooody Cow Crewneck Sweater Gift for Cow Lovers Cottage Farm Animal Embroidery
From: laughinks.com