Ariel christmas ornament Disney movie 2023 xmas tree decoration Princess Ariel Personalized Ornaments Custom Name The Little Mermaid Gift for Fan Gallery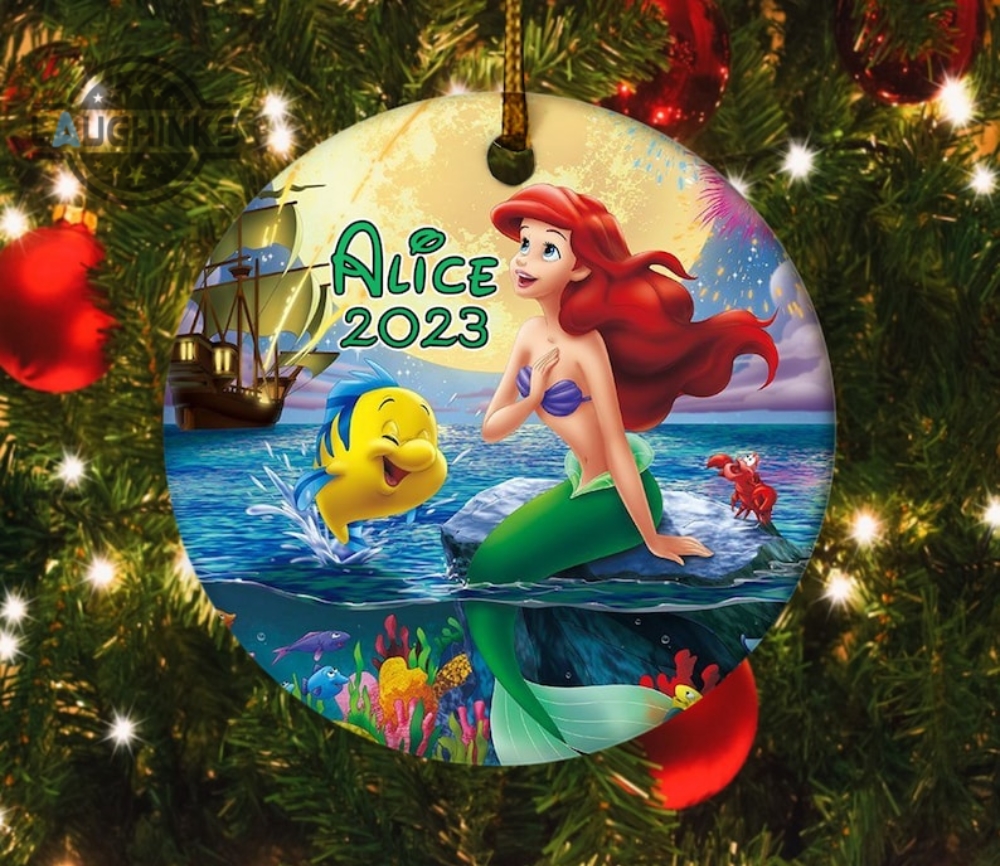 Ariel christmas ornament Disney movie 2023 xmas tree decoration Princess Ariel Personalized Ornaments Custom Name The Little Mermaid Gift for Fan Introduction
Get ready to make a splash this holiday season with the Ariel Christmas Ornament from the Disney movie 2023! This exquisite Xmas tree decoration features Princess Ariel herself, making it the perfect personalized ornament for any fan of The Little Mermaid. Crafted with attention to detail, this custom name ornament is a must-have for Disney enthusiasts who want to add a touch of magic to their Christmas tree.
At Laughinks, we understand the importance of finding unique and special gifts for your loved ones. That's why we offer this enchanting Ariel Christmas ornament, designed to bring joy and nostalgia to fans of all ages. Made with high-quality materials, this ornament is built to last and will be a cherished keepsake for years to come.
Whether you're a die-hard fan of the Disney movie 2023 or know someone who is, this personalized ornament is sure to make their holiday season extra special. Don't miss out on this opportunity to bring the magic of Princess Ariel into your home this Christmas. Shop now at Laughinks and make your tree shine with the Ariel Christmas Ornament!
Ariel christmas ornament Disney movie 2023 xmas tree decoration Princess Ariel Personalized Ornaments Custom Name The Little Mermaid Gift for Fan Description
Meticulously Made in the United States
Shipped to Customers Across the Globe
Crafted from Premium Ceramic Materials
Available in a Pristine White Finish
Offers a Variety of Shapes: Round, Star, Heart, and Oval
Supports Printing on Both Sides
Allows for the Imprinting of Full-Color Artwork, Photos, or Logos
Conveniently Equipped with a Pre-Drilled Hole for Easy String Hanging
Includes a Hanging String for Your Added Convenience
Ariel christmas ornament Disney movie 2023 xmas tree decoration Princess Ariel Personalized Ornaments Custom Name The Little Mermaid Gift for Fan Social Links:
Link Pinterest: Ariel christmas ornament Disney movie 2023 xmas tree decoration Princess Ariel Personalized Ornaments Custom Name The Little Mermaid Gift for Fan
Link Twitter: Ariel christmas ornament Disney movie 2023 xmas tree decoration Princess Ariel Personalized Ornaments Custom Name The Little Mermaid Gift for Fan
From: laughinks.com